Basic (not instrument specific) training in Mass Spectrometry.
The course will be given in Sartorius Stedim Data Analytics office.
Arenagatan 8B
SE-215 33 Malmö, Sweden
50 m from Hyllie train station (closest station to Øresunds bron).
Time : Sept 12th, 9:00-16:00
Coffee and lunch included.
Price: 4.500 SEK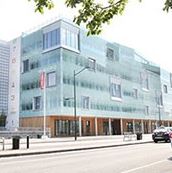 The course is a one day course that will give you an insight in how a MS-system works. Will cover LC/MS, GC/MS as well as MS/MS.
The first course will be given in May and two times during the Autumn 2017.
May 11
September 12
October 31
Content
chromatography
will cover different typs of chromatography that could be coupled to a MS-system.
Focus will be on GC/MS and LC/MS.
interface
how do we connect a GC or LC system to the MS?
ionization
on a GC/MS we normally use EI (Electron Impact) or CI (Chemical Ionization.
On a LC/MS system ESI (Electro Spray Ionization) or APCI (Atmospheric Pressure Chemical Ionization) are the most used but there are other techniques as well.
mass separation
eg. different types of mass spectrometers from quadrupole to OrbiTrap.
scan functions
we will cover both MS and MS/MS.
detection
will cover different types of detectors.
data evaluation
the princip of mass spectrometry has not changed so much but how we evaluate our data differs from vendor to vendor. But there are also third party programs that could be useful.
more about data evaluation
since we are in former Umetrics facilities we will take a short view into how to handle large, and complex data